Welcome to our double 'Summer' issue. You may notice I've put Summer in quotes as at the time of writing this, it's ridiculously cold and wet. What is it doing out there? I have however, kept some shred of positivity by featuring another Summer recipe below, a classic and very easy Pavlova; always a crowd pleaser!
Our 'Meet The Locals' feature continues and in this issue we will be chatting to Jason from the Fuddy Duck brewery on Willington Road. I've already had one other enquiry from a long standing local business who will feature in the next issue which is great. If anyone else is interested in getting involved, please contact me. I hope to keep this feature going for as many issues as there are businesses!
The Best Pavlova Recipe
taken from Prettysimplesweet.com
Ingredients: 4 large egg whites, 1 cup (200 g/7 oz) granulated or icing sugar, ½ tablespoon cornflour (sifted), 1 teaspoon white wine vinegar or lemon juice, pinch of salt and 1 teaspoon pure vanilla extract.
Method: Preheat oven to 325F/160C. Line a baking sheet with baking paper and draw an 8-inch or 9-inch circle (you can use your cake pans for that). This will help you later when spreading the meringue. Turn the paper so that the circle is on the reverse side. In a mixer bowl fitted with a whisk attachment or a hand whisk, whisk egg whites on high speed until foamy and soft peaks start to form (about 30-40 seconds). Reduce speed to medium and, while mixer is running, add sugar, one tablespoon at a time. Once done adding sugar, increase speed to high and continue whisking until stiff peaks form, meringue is glossy, and the sugar is fully dissolved. Add cornflour, vinegar, salt, and vanilla and either fold in by hand or whisk on low speed just until combined. Spread meringue onto the baking paper, shaping it into a circle with the help of the circle you drew earlier. Create a border so that edges are slightly higher than the centre. Place in oven and reduce temperature to 230F/110C. Bake for 75-90 minutes, or until creamy in colour and the outside appears dry. Turn off oven and, without removing, let meringue cool completely in the oven. It will crack slightly while cooling. Top with sweetened whipped cream and your favourite fruits!
You may see on the front cover and inside the magazine, we are looking for some distributors to cover a number of areas in the village. As you know, we have a fantastic band of volunteers who cover the entire village, some of whom have been putting the mag through your letterbox for decades. If you can spare an hour or two a month, please contact me!
I will also repeat briefly something I mentioned in my last letter. Please do get in touch by sending me an e-mail if you would like to be considered for a donation from Kirton News. We are always happy to support local causes and events for raffles etc.
Whatever you get up to this Summer, I do hope you have a lovely time. Whether it be a holiday or a staycation, please do at least a few things that make you smile. See you in September!
Rachael
Meet The Locals:
Jason at the Fuddy Duck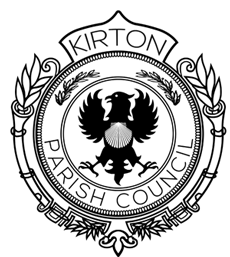 Notice of Vacancy
For a Parish Councillor